TEAM OUTING IN BANGALORE
We conduct Corporate team outings, team building activities, outbound training programs, day trips, weekend trips at Camp and day outing in resorts.
Team building activities designed to make your staff do more, reach further, think deeper, and bridge differences quicker.
Team Outing Places
You do not have to look far ahead to plan a riveting jaunt near Bangalore. From natural formations like hills, mountains, waterfalls and sanctuaries to those shaped by man like forts and palaces, there are numerous choices of tourist places within 200 kms from Bangalore. Take your pick from the plenty of experiences that await close by.
Most Popular Corporate Team Packages Near Bangalore
Choose from 100+ Activities and 20+ Locations for Your Day Outing through corporate companies. Team outings are a great way to facilitate bonding with your team members, reduce employee stress, and give them the chance to get to know one another outside of the office.
Corporate Team Outing Guide and Tips
Volunteering

Research suggests that participating in volunteer activities outside of the office can help employees recover from work and come back re-energized.

Fitness or Sports Activities

Employees benefit from the physical activity and have the added incentive of ending their work day early if they participate. These activities have both mental and physical health benefits.

Field Trips

Leaving the confines of the office to visit a museum, nature center, or local historical society gets employees out of their typical work environment and provides an opportunity for new learning and experiences

Professional Development Activities

Participating in a shared learning experience allows employees to serve as ambassadors for the organization and discuss how the new knowledge and skills they develop can be applied back at work

Shared Meals

From celebrating a colleague's birthday to marking a long-time employee's retirement with a happy hour, breaking bread is an inherently social experience.
Quick Facts
Starting at 1500/person for a full day of Team building
Half and full day experiences. No matter the size of your team we can accommodate your time frame and budget. An easy way to re-engage and boost staff morale.
Come for a full day of team building and add an adventure, meal or meeting space for the full TeamOutings experience!

2 days / 1 night starting at 3500/person*
Develop new team dynamics through a variety of fun and exciting programming.
Includes:
Half Day Team building
One night Wilderness accommodations
Your choice of adventure activities
• Team Challenges & Team Building Games
• Outdoor Adventures & Activity Breaks
• Creative Conferences & Incentives
• Ice Breakers & Meeting Energizers
• Challenge High & Low Ropes Course
• Sky Trek & Zip Wire
• Climbing & Abseiling
• Orienteering, Treasure Hunts, Archery
• Kayaking & Mountain Biking
• Guided Nature Rambles
• Unique Christmas Parties
• Evening Entertainment
• Rustic Barbecues

Testimonials
Outing with HolidayMonk was quite easy and enjoyable. They provided input on various corporate team outings and hosted a best resort to us.


We wanted a worry-free outing where we would enjoy near Bangalore and HolidayMonk has made it successful.


I was looking for an fun, interactive experience that would allow my team to bond outside of the office, HolidayMonk really took care of everything and made the day memorable for my company.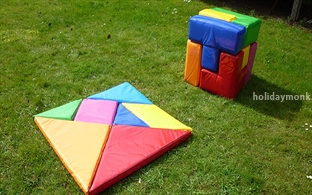 Latest Edition To Team Outing Packages Near Bangalore
Plan Your Outings
We can heavily customize your tour to focus on your company values, your team's interests, themes, industry, challenges, ideas, to make this event not only fun but super relevant and inspiring to your team.
Low Rate Packages
Our team building activities are designed to work well for group of 8-20 persons. For larger groups, we split your group into smaller teams and run through activities for reasonable price tag and best rates.
Travel Trust
We offer team building challenges, outdoor adventures and facilitated workshops that can be planned as individual activities or put together in half-day, full-day or multi-day event packages through trained personals.

Outing Guidelines
Identify the costs to provide necessary resources for the team, Contact each team member, Early on, plan team building activities to support trust and working relationships, Carefully plan the first team outing.